Join us on Monday's for a classic movie followed by refreshments and discussion led by David Bishop, Shakespeare scholar and film buff.

Because I have not updated this page since November, here is a summary of what we watched.
Mon. Nov.26th Casablanca
Mon. Dec. 3rd Notorious
Mon. Dec. 10th North by Northwest
Mon. Dec. 17th Ohayo (Good Morning)
Tues. Dec. 25th Pygmalion (Bob only. It was Christmas)
Mon. Dec. 31st My Fair Lady (New Year's Eve Musical. A Doyle Tradition since 1991)
Mon. Jan. 7th Yojimbo
Monday Jan. 14th at 7:30 we will have Rififi (1955) (Kendrick's Review, FilmThreat.)
"Nowhere in Rififi is the literal translation of its original French title explained.  There's a sultry cabaret song in the show that explains that the word 'rififi' means 'the rough and tumble', presumably of violent sex." (DVDTalk)



.
The Saturday Night Movies:
Wed. Nov. 21st, eve of Thanksgiving we watched What's Cooking?.
Sat. Nov.24th Night of the Hunter
Sat. Dec. 1st State and Main
Sat. Dec. 8th You Can Count on ME
Sat. Dec. 15th The House of Mirth
Sat. Dec. 22th none. Wendy had his traditional Family Christmas Party.
Sat. Dec. 29th Holiday (Classic Hepburn/Grant flick)
Sat. Jan. 5th Out of Sight (We fast-forwarded through most of it)

Saturday January 12th at 8 we will have
Blood Simple (1984), (Ebert's Review, LaserDisk Review)



, or
Memento (2000) (Ebert's Review, Kendrick's)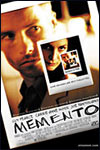 .
Coming soon
Pollock (2000) (Ebert's Review, NYT's)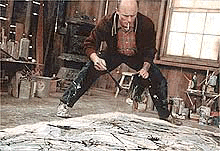 . or
Ma Saison Préférée (1993) d. André Téchiné (Ebert's Review, LA Times's)



.


Check here weekly for the Doyle Saturday night movie. Visit skyBuilders and learn about Bob and Derek's skyBuilders.com enterprise.


Extra: Sausage Stuffing Recipe, Ice Milk Recipe , Carter & Bob: Firemen, Carter & Bob: Blow, Tyger