Holly's Site
______

__________

skybuilders.com
Saturday May 26th, 2001, we will have

My Night at Maud's (1981) (Pratt's DVD Review, Edinburgh Film Society)



,
A Zed and Two Noughts (Washington Post review), or


Coming soon,
Yi Yi (2000) (Ebert's review, NY Times Review)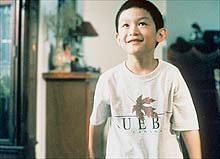 ,
The Mighty Quinn (1989) (1999) (Ebert's review, Doug Pratt),
A Walk in the Clouds (1995) (Ebert's review, andBerardinelli's).



Check here weekly for the Doyle Saturday night movie. Click on skyBuilders to visit and learn about Bob and Derek's skyBuilders.com site.
Extra: Sausage Stuffing Recipe, Ice Milk Recipe , Carter & Bob: Firemen, Carter & Bob: Blow, Tyger